Usted comprende y está de acuerdo en que existen importantes factores de riesgo, que deben ser considerados cuando usted decida comprar Digital Products.
SIN PROMESA DE GANANCIAS, NI REPRESENTACIONES
Usted sabe y está de acuerdo en que nosotros no hemos hecho promesas, no nos hemos implicado, no hacemos sugerencias ni proyecciones ni damos garantías acerca de sus futuros prospectos o ganancias, ni decimos que usted ganará dinero con la compra de Digital Products, y que nosotros no hemos autorizado dicha proyección, promesas o representaciones a terceros.
Todas las ganancias o ingresos, o el ejemplo de cualquier ganancia o ingreso, son solo estimaciones de lo que creemos que usted puede ganar. Pero no hay ninguna seguridad de que usted lo hará tan bien como lo que se muestra en dichos ejemplos. Si usted confía en lo que le suministramos, también debe aceptar el completo riesgo de no hacerlo tan bien como en la información que proveemos. Esto también se aplica si los ejemplos de ganancias son monetarios por naturaleza, o pertenecen a los créditos de los anuncios que pueden producir ganancias (tanto si estos créditos son convertibles en dinero en efectivo, como si no).
No hay garantía de que ningún éxito ocurrido o que pueda ocurrir referido a las ganancias o ingresos (tanto si estos créditos son convertibles en dinero en efectivo, como si no) puedan cumplirse; ningún suceso anterior puede ser utilizado como una indicación de éxitos o resultados futuros, de ninguna de las informaciones, contenidos ni estrategias. Cualquiera y todos los reclamos o representaciones acerca de las ganancias (tanto si estos créditos son convertibles en dinero en efectivo, como si no), no serán considerada como un «promedio de ganancias».
LA ECONOMIA
La economía, ya sea la que tiene que ver con los negocios o la nacional "inclusive la de escala mundial", crea una falta de certeza adicional y mayores riesgos económicos. Una recesión económica o depresión podría afectar de manera negativa los resultados producidos por Digital Products.
SU ÉXITO O FRACASO
Su éxito en utilizar la información o las estrategias provistas por este sitio Web, depende de una gran variedad de factores. No tenemos forma de conocer si usted lo hará bien, desconocemos sus antecedentes, su ética en el trabajo, su dedicación, su motivación, su deseo, o su habilidad y práctica en los negocios. Por lo tanto, nosotros NO garantizamos ni suponemos de antemano que usted se hará rico, que usted lo hará todo bien, o que usted, en definitiva, tendrá ganancias (tanto si estos créditos son convertibles en dinero en efectivo, como si no).
Los negocios y las ganancias en Internet derivadas de esos negocios, conllevan grandes riesgos que no son agradables para nadie. No confíe en cada información presentada en el sitio Web, o cualquier otra provista por nosotros, a menos que usted lo haga con el conocimiento y la comprensión de que puede sufrir importantes pérdidas (incluyendo "pero solo no limitado" al dinero que pagó por la compra de Digital Products, y/o cualquier otro tipo de gasto, como el de instalar, operar y hacer el Marketing de Digital Products, además de que usted podría no obtener ganancias en absoluto (tanto si estos créditos son convertibles en dinero en efectivo, como si no).
DECLARACIONES ANTERIORES
LOS MATERIALES QUE CONTIENE ESTE SITIO WEB O LOS MATERIALES COMPRADOS Y/O DESCARGADOS DE ESTE SITIO WEB, PUEDEN CONTENRE INFORMACIÓN QUE INCLUYE, O ESTA BASADA EN ANTERIORES DECLARACIONES DENTRO DEL SIGNIFICADO DE LA REFORMA DEL ACTA DE LITIGACION DE 1995. LAS DECLARACIONES ANTERIORES NOS DAN EXPECTATIVAS O PRONÓSTICOS DE FUTUROS EVENTOS. USTED PUEDE IDENTIFICAR ESTAS DECLARACIONES POR EL HECHO DE QUE NO ESTANN RELACIONADAS ESTRICTAMENTE CON LOS HECHOS RECIENTES NI HISTORICOS. ELLOS USAN PALABRAS COMO «ANTICIPADO,» «ESTIMADO,» «ESPERO,» «PROYECTO,» «INTENTO,» «PLAN,» «CREO», Y OTRAS PALABRAS Y TÉRMINOS DE SIMILAR SIGNIFICADO, EN CONEXION CON LA DESCRIPCION DE LAS POTENCIALES GANANCIAS O DESEMPEÑO FINANCIERO. TODAS Y CADA UNA DE LAS DECLARACIONES ANTERIORES QUE HAYA AQUI O EN CUALQUIER OTRO MATERIAL DEL SITIO WEB, INTENTA EXPRESAR NUESTRA OPINION DEL POTENCIAL DE GANANCIAS. MUCHOS FACTORES SERAN IMPORTANTES PARA DETERMINAR SU ACTUAL RESULTADO, Y NO SE HA DADO NINGUNA GARANTIA DE QUE USTED PUEDA OBTENER RESULTADOS SIMILARES A LOS NUESTROS NI A LOS DE CUALQUIER OTRO, DESDE QUE NO SE HAN DADO GARANTIAS DE QUE USTED PODRA CONSEGUIR LOS MISMOS RESULTADOS DE NUESTRAS IDEAS Y TÉCNICAS UTILIZANDO NUESTRO MATERIAL.
DILIGENCIA PREVISTA
Usted ya está notificado para hacer SU propia diligencia prevista en lo referido a las decisiones comerciales; debe ser cauteloso, y buscar el consejo de profesionales calificados. Debe chequear todo con su contador, su abogado o el profesional que lo asesore, antes de actuar con esta o con cualquier otra información. NO debe considerar ningún ejemplo, documento ni otro contenido del sitio Web, como tampoco ningún otro provisto por nosotros, como el equivalente a un consejo legal. Nada del contenido de este sitio Web o en materiales disponibles para la venta o para ser descargados del sitio Web, proveen ningún tipo de consejo legal. Usted debe consultar con su abogado sobre cualquier pregunta legal que se le presente.
Nosotros no asumimos ninguna responsabilidad por pérdidas o daños que resulten del uso de cualquier link, información, u oportunidad contenida en este sitio Web o de cualquier información expuesta por el dueño de este sitio de cualquier forma en que estuviere presentada.
PRECIO DE COMPRA
Aunque nosotros creemos que el precio es muy bajo por el valor que usted recibe, usted comprende y acepta que el precio de compra de Digital Products ha sido arbitrariamente puesto por nosotros. Este precio no tiene relación con el objeto de las normas.
TESTIMONIOS & EJEMPLOS
Los testimonios y ejemplos de este sitio Web acerca de Digital Products que muestran resultados tan excepcionales, no reflejan la experiencia típica de los compradores, no son válidos para las personas promedio, y no intentan representar ninguna garantía de que alguien pueda alcanzar los mismos resultados. Donde se especifican las ganancias e ingresos (tanto si estos créditos son convertibles en dinero en efectivo, como si no) que se atribuyen a un individuo o negocio en especial, ese individuo o negocio en realidad ha ganado ese importe. Eso no asegura que usted lo logre, incluso utilizando la misma información y estrategia. Si usted se confía en la ganancia o ingresos específicos que se han usado, también debe aceptar todo el riesgo de no hacerlo tan bien. Las experiencias referidas son atípicas. Sus resultados financieros difieren de aquellos descritos en los testimonios.
Por favor, tome nota que el contenido de esta página puede cambiar sin aviso previo.
Estos términos y condiciones se actualizaron por última vez el 03-12-2009.
Registro de Propiedad Literaria © 2008
La Oficina Legal de Michael E. Young PLLC, autorizó por medio del dueño de este Sitio Web, a MercadeoGlobal.com. Todos los derechos reservados. Ninguna parte de este documento puede copiarse o ser usada por nadie más que el titular de la licencia, sin el expreso permiso escrito del dueño de los derechos de propiedad literaria.
You understand and agree that there are important risk factors that should be considered by you when deciding whether to purchase information products.
NO EARNINGS PROJECTIONS, PROMISES OR REPRESENTATIONS
You recognize and agree that we have made no implications, warranties, promises, suggestions, projections, representations or guarantees whatsoever to you about future prospects or earnings, or that you will earn any money, with respect to your purchase of information products, and that we have not authorized any such projection, promise, or representation by others.
Any earnings or income statements, or any earnings or income examples, are only estimates of what we think you could earn. There is no assurance you will do as well as stated in any examples. If you rely upon any figures provided, you must accept the entire risk of not doing as well as the information provided. This applies whether the earnings or income examples are monetary in nature or pertain to advertising credits which may be earned (whether such credits are convertible to cash or not).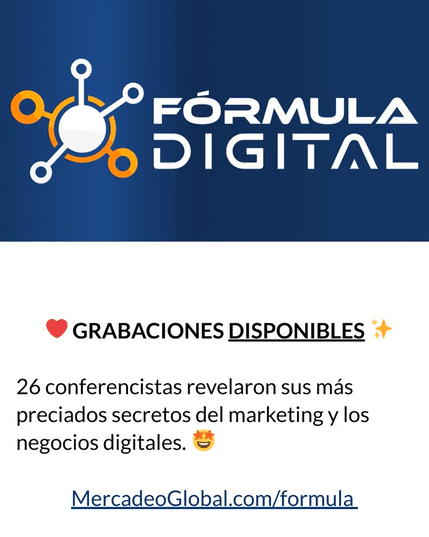 There is no assurance that any prior successes or past results as to earnings or income (whether monetary or advertising credits, whether convertible to cash or not) will apply, nor can any prior successes be used, as an indication of your future success or results from any of the information, content, or strategies. Any and all claims or representations as to income or earnings (whether monetary or advertising credits, whether convertible to cash or not) are not to be considered as «average earnings».
THE ECONOMY
The economy, both where you do business, and on a national and even worldwide scale, create additional uncertainty and economic risk. An economic recession or depression might negatively affect the results produced by information products.
YOUR SUCCESS OR LACK OF IT
Your success in using the information or strategies provided at MercadeoGlobal.com depends on a variety of factors. We have no way of knowing how well you will do, as we do not know you, your background, your work ethic, your dedication, your motivation, your desire, or your business skills or practices. Therefore, we do not guarantee or imply that you will get rich, that you will do as well, or that you will have any earnings (whether monetary or advertising credits, whether convertible to cash or not), at all.
Internet businesses and earnings derived there from, involve unknown risks and are not suitable for everyone. You may not rely on any information presented on the website or otherwise provided by us, unless you do so with the knowledge and understanding that you can experience significant losses (including, but not limited to, the loss of any monies paid to purchase information products, and/or any monies spent setting up, operating, and/or marketing information products, and further, that you may have no earnings at all (whether monetary or advertising credits, whether convertible to cash or not).
FORWARD-LOOKING STATEMENTS
MATERIALS CONTAINED ON THIS WEBSITE OR IN MATERIALS PURCHASED AND/OR DOWNLOADED FROM THIS WEBSITE MAY CONTAIN INFORMATION THAT INCLUDES OR IS BASED UPON FORWARD-LOOKING STATEMENTS WITHIN THE MEANING OF THE SECURITIES LITIGATION REFORM ACT OF 1995. FORWARD-LOOKING STATEMENTS GIVE OUR EXPECTATIONS OR FORECASTS OF FUTURE EVENTS. YOU CAN IDENTIFY THESE STATEMENTS BY THE FACT THAT THEY DO NOT RELATE STRICTLY TO HISTORICAL OR CURRENT FACTS. THEY USE WORDS SUCH AS "ANTICIPATE," "ESTIMATE," "EXPECT," "PROJECT," "INTEND," "PLAN," "BELIEVE," AND OTHER WORDS AND TERMS OF SIMILAR MEANING IN CONNECTION WITH A DESCRIPTION OF POTENTIAL EARNINGS OR FINANCIAL PERFORMANCE.
ANY AND ALL FORWARD LOOKING STATEMENTS HERE OR ON ANY MATERIALS ON THE WEBSITE ARE INTENDED TO EXPRESS OUR OPINION OF EARNINGS POTENTIAL. MANY FACTORS WILL BE IMPORTANT IN DETERMINING YOUR ACTUAL RESULTS AND NO GUARANTEES ARE MADE THAT YOU WILL ACHIEVE RESULTS SIMILAR TO OURS OR ANYBODY ELSE, IN FACT NO GUARANTEES ARE MADE THAT YOU WILL ACHIEVE ANY RESULTS FROM OUR IDEAS AND TECHNIQUES IN OUR MATERIAL.
DUE DILIGENCE
You are advised to do your own due diligence when it comes to making business decisions and should use caution and seek the advice of qualified professionals. You should check with your accountant, lawyer, or professional advisor, before acting on this or any information. You may not consider any examples, documents, or other content on the website or otherwise provided by us to be the equivalent of legal advice. Nothing contained on the website or in materials available for sale or download on the website provides legal advice in any way. You should consult with your own attorney on any legal questions you may have.
We assume no responsibility for any losses or damages resulting from your use of any link, information, or opportunity contained within the website or within any information disclosed by the owner of this site in any form whatsoever.
PURCHASE PRICE
Although we believe the price is fair for the value that you receive, you understand and agree that the purchase price for information products has been arbitrarily set by us. This price bears no relationship to objective standards.
TESTIMONIALS, CASE STUDIES & EXAMPLES
Testimonials, case studies, and examples found at MercadeoGlobal.com are exceptional results, do not reflect the typical purchaser's experience, dont apply to the average person and are not intended to represent or guarantee that anyone will achieve the same or similar results. If we have disclose typical results based on information provided to us by a manufacturer or other reputable third party source, you should presume that the typical results as stated are more reliable than the testimonials and examples found at MercadeoGlobal.com. However, you should always perform due diligence and not take such results at face value. We are not responsible for any errors or omissions in typical results information supplied to us by manufacturers or other reputable third parties.
Where specific income or earnings (whether monetary or advertising credits, whether convertible to cash or not), figures are used and attributed to a specific individual or business, that individual or business has earned that amount. There is no assurance that you will do as well using the same information or strategies. If you rely on the specific income or earnings figures used, you must accept all the risk of not doing as well. The described experiences are atypical. Your financial results are likely to differ from those described in the testimonials.
If a product or service is new, you understand that it may not have been available for purchase long enough to provide an accurate earnings history.
COMPENSATION DISCLOSURE POLICY
Any material connection that we have with a third party provider of goods or services mentioned on MercadeoGlobal.com are explained in our Compensation Disclosure Policy. This policy is incorporated by reference into these Earnings Disclaimers. You should read the policy to fully understand the meaning of our relationships with third party vendors and how it may affect the content found on MercadeoGlobal.com.
If you have any questions about these disclaimers or about testimonials, case studies, and/or examples found at MercadeoGlobal.com, contact us
Please note that the content of this page can change without prior notice.
This Earning Disclaimer was last updated on 12-02-2009.
---
Copyright © 2008-2009 Law Office of Michael E. Young PLLC, and licensed for use by the owner of this website at MercadeoGlobal.com. All Rights Reserved.  No portion of this document may be copied or used by anyone other than the licensee without the express written permission of the copyright owner.